Dallas Woodburn, the founder of Write On! For Literacy and Write On! Books, is the author of 3 a.m., an award-winning collection of short stories that was featured on the national PBS book talk show "Between the Lines." Her children's book There's a Huge Pimple on My Nose was lauded in Girls' Life magazine and The Los Angeles Times Book Review raved, "If you simply want to enjoy some remarkable writing, it would be hard to find a book more satisfying."
Poems from There's a Huge Pimple On My Nose were recently turned into songs by composer Alex Marthaler at Carnegie Mellon University!
Peanut Butter Surprise: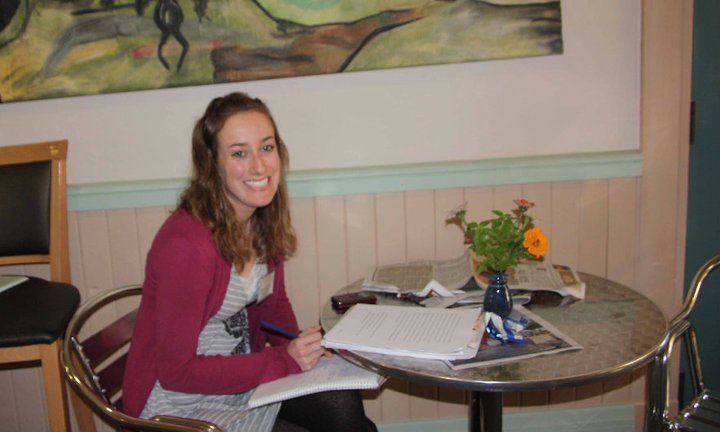 Dallas is also the founder of Write On! Books publishing company, through which she edited and published Dancing With The Pen: a collection of today's best youth writing. She received her B.A. in Creative Writing with a minor in Entrepreneurship from the University of Southern California and her M.F.A. in Fiction from Purdue University, where she also served as Fiction Editor of Sycamore Review. From 2013-14, she was a John Steinbeck Fellow in Creative Writing at San Jose State University.
Her short fiction has been nominated for a Pushcart Prize and the Dzanc Books "Best of the Web" anthology and has appeared in a variety of literary journals including Monkeybicycle, The Nashville Review, Louisiana Literature and Fourth River. Her nonfiction has been published in Family Circle, Writer's Digest, The Writer, Justine, and nearly two dozen Chicken Soup for the Soul series books. Her plays have been produced in Los Angeles and New York City.
Learn more about Dallas's books here. Read some of her published short stories here.
Here is a short article Dallas wrote about how to help your child become a better writer.
Writing Awards:
Steinbeck Fellowship in Creative Writing, San Jose State University. (2013-14)
Scholarship to attend the Key West Literary Seminar and Writing Workshops. (2013)
Finalist for the Flannery O'Connor Award for Short Fiction. (2012)
Finalist for Samuel French Short Play Festival in NYC, "A Frog in Boiling Water." (2012)
Asian Studies Award for Fiction, "Three Sundays at The Grove." (2012)
Ninth Glass Woman Prize recipient, "Woman, Running Late, in a Dress." (2011)
Brian Mexicott Playwriting Award, "The Stars in Indiana." (2011)
Community Service Awards:
Next Generation Leadership Award Honoree from the Ventura County Community Foundation. (2011)
National "Best of You" award winner from Glamour Magazine and Sally Hansen for leadership and service endeavors. (2010)
Entrepreneurial Values Award and Top Ten Business Plan Award from the University of Southern California Greif School of Entrepreneurship. (2009)
University of Southern California Associates Trustee Scholar. (2009)
National Finalist for the Marshall Fellowship and the Mitchell Fellowship. (2008)
National Liberty Mutual Responsible Scholar for community service and academic excellence. (2008)
National Jim Murray Memorial Foundation Scholar for academic and journalistic excellence. (2007)
"Young Woman of the Year" for 2006 from the American Red Cross of Ventura County for literacy and humanitarian work. (2006)
Here's a recent interview with Dallas featured on Our Ventura TV: